This post is about a project I'm just starting. It's not something public, so there's no music to listen to, videos to check out or livestream to tune into. But it's my current focus during these winter months, so I'm documenting it here and may write some updates as the project goes on. This weekend Sloth Racket will hold our second of five sessions in 'a room inside the internet'!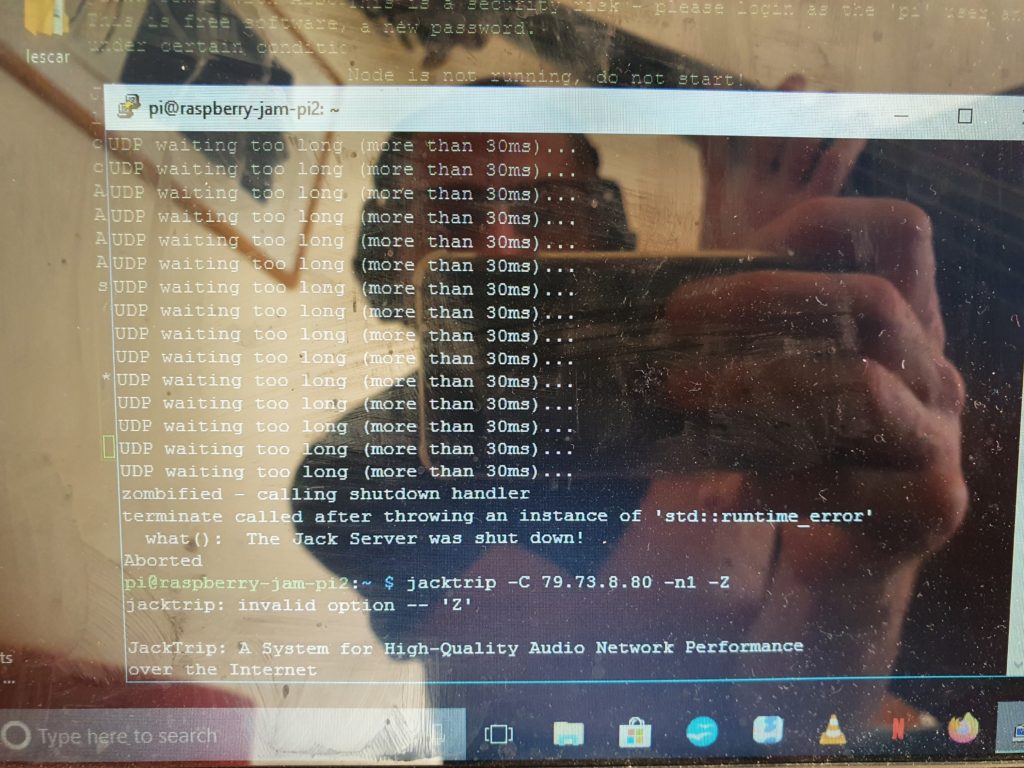 Seth Bennett attempts a deep dive into cyberspace
When the pandemic scuppered our plans for a 2020 tour, I needed to find something that would keep us playing together and create some paid work to replace live shows. Arts Council England re-opened their Project Grants programme in July, with an altered focus to take into account the challenging conditions artists (along with the entire world) are now operating in, and I began to think about how I could put together a funding application to support us to make work, even without any touring.
Over the summer I had been lucky enough to take part in online group jams as part the testing of Noise Orchestra's ongoing R&D project. This involved ad-hoc bands of up to six improvisers, playing together over the internet using some software called JackTrip. Noise Orchestra (David Birchall and Vicky Clarke) were working towards what is now their Autonomous Noise Unit system, where players can use a simple plug-and-play device to connect to a hubserver and jam in real-time with other people also connected. JackTrip has amazing audio quality and incredibly low latency, meaning that the experience is pretty close to playing with someone in the next room in a studio, for example. Tom Ward worked on the server-side development of the ANU project, so I heard a lot about it as it developed – and it became clear that JackTrip could be the tool we needed to safely collaborate as a band during the pandemic.
I applied for a Project Grant to support a five month development period with Sloth Racket, made up of writing time for me to compose new material, and five remote band sessions – one every month from November 2020 to March 2021. 'A Room Inside the Internet' – a phrase used by Dave Birchall to describe JackTrip – became the project name. It was strange to write a grant application where no artists would actually meet each other, where the only in-person public engagement was in a speculative post-pandemic future, and where there was no income from other sources at all (not even any door gigs!). Noise Orchestra agreed to be a partner and provide some ANU for band members who couldn't connect with their existing home setups, and Tom came on board to set us up our own 'sloth server' – the virtual rehearsal room. Our alto player Sam Andreae, who is also part of Noise Orchestra's project, agreed to do the ANU setup.
Despite the remote-working aspect and pandemic context, the project was very appealing to me as it would focus exclusively on creating and developing new material for a block of time, without any of the other work involved in being a band, like booking tours or preparing releases. I actually like doing that work and it's a huge part of being an artist, but it can also kill creativity and take over my headspace. In a weird dark way, the impossibility of booking live shows was a chance to step off that treadmill. I put the application in and hoped for the best.
After only four weeks, I got the decision email and was pretty ecstatic to see that the Arts Council were offering me the full amount I applied for. Since then I've been working on new material, and we played online for the first time in November. It's totally different from rehearsing in person, but SO good to play together again. And we have four more sessions to try out the new music I create in the writing time. The funding has allowed us to take time for experimentation with no pressure of a performance endpoint, no studio date looming on the horizon. (Although, of course, I'd love to book both a studio date and some touring as soon as possible after the project finishes.)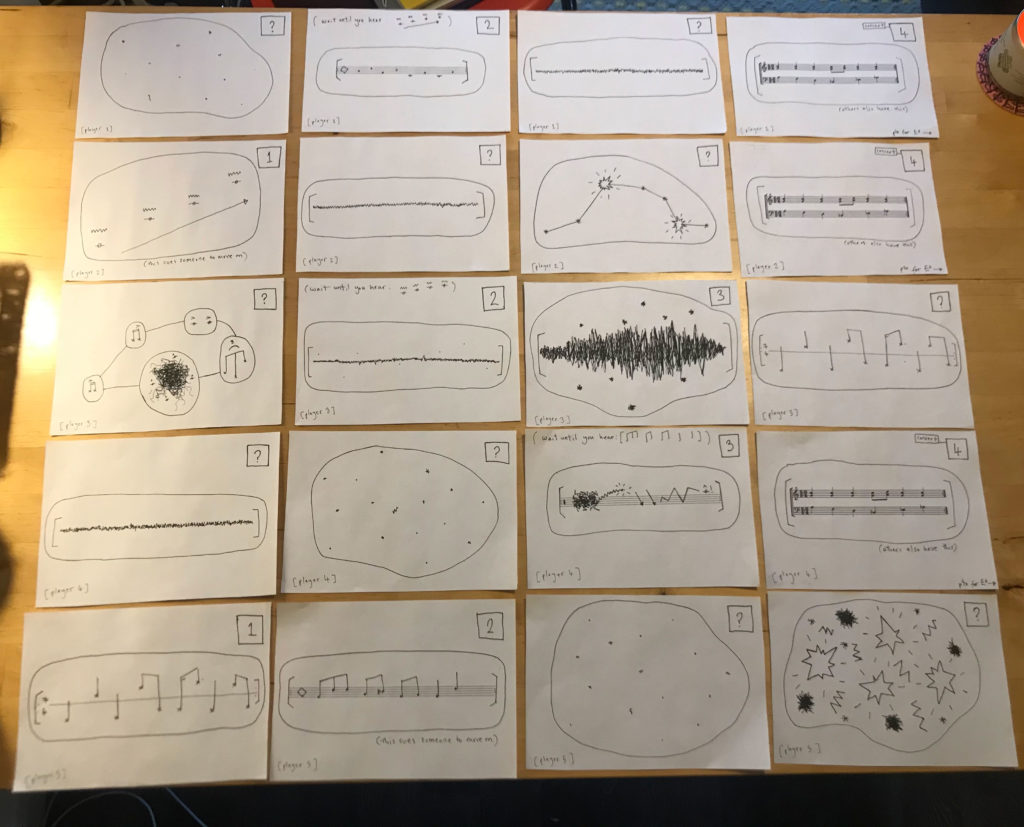 Score preparation – sets of these modules went in the post to band members

The Project Grants scheme in its current guise (until March 2021) does not require the usual 10% minimum income from other sources, or the sort of public engagement that was previously expected. It's quite similar to their Developing Your Creative Practice funding, in that during this exceptional time the Arts Council are encouraging applications that focus on R&D: basically, time to think and work on stuff – in preparation for taking our new work out there into a future where live music as we know it is happening again. If you're an artist (working in England), maybe you knew this already. But if you didn't, and if you have some development type work that could use funding support, it would be worth reading the Projects Grant guidance.
Noise Orchestra have now launched a website for their ANU system – worth checking out if you're interested to read more about what they do. They have hooked up jams involving musicians from all around the UK and further afield, including live broadcasts for the Manchester concert series Curious Ear. Online collaboration is not like playing together in a room, in person. It's something else. But I've found over the past few months that in its own way, it does have a good go at scratching the itch. And for bands who might find it difficult/impossible/undesirable to meet in person during the pandemic, it's a fantastic way to keep making music together.
As part of our last session in March 2021 (closer than it sounds), there will be a live 'open rehearsal' broadcast; you'll be able to tune in and hear us playing the new music from our five different locations. I'll post the details here when I have them…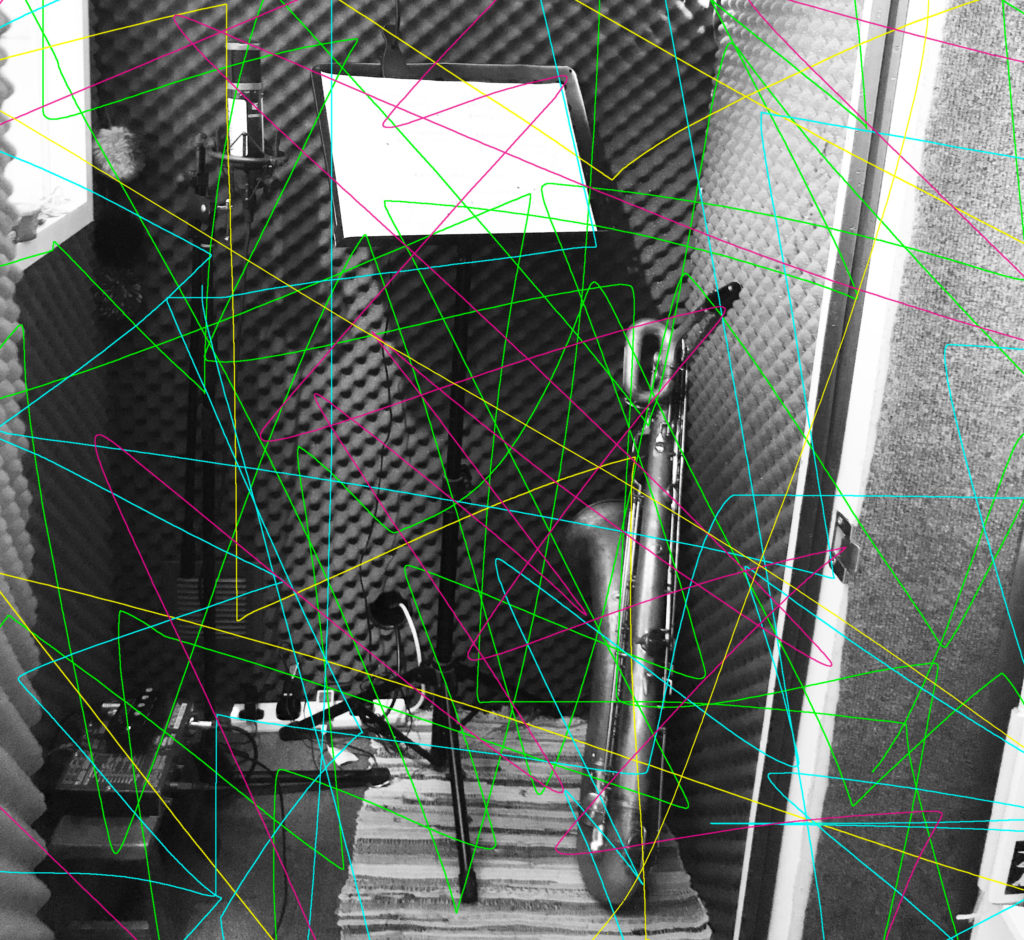 My baritone in the internet