I am and have been involved in lots of bands and projects over the years! Read on to find out more about them, follow links to keep up to date with their progress and learn about my collaborators.
Jump to a project using this list…
Current activities
Sloth Racket
Live electronics
And then the next thing you know (installation)
As bandmate/collaborator
Article XI
cr-ow-tr-io
Dee Byrne & Cath Roberts
Graham Dunning & Cath Roberts
Madwort Saxophone Quartet
MoonMot
Olie Brice & Cath Roberts
Ripsaw Catfish
Sam Andreae & Cath Roberts
Spinningwork
As organiser
BRÅK
LUME/Luminous
Past projects
Collisions
Favourite Animals
Live recordings Bandcamp site
Quadraceratops
Saxoctopus
Word Of Moth
//
And then the next thing you know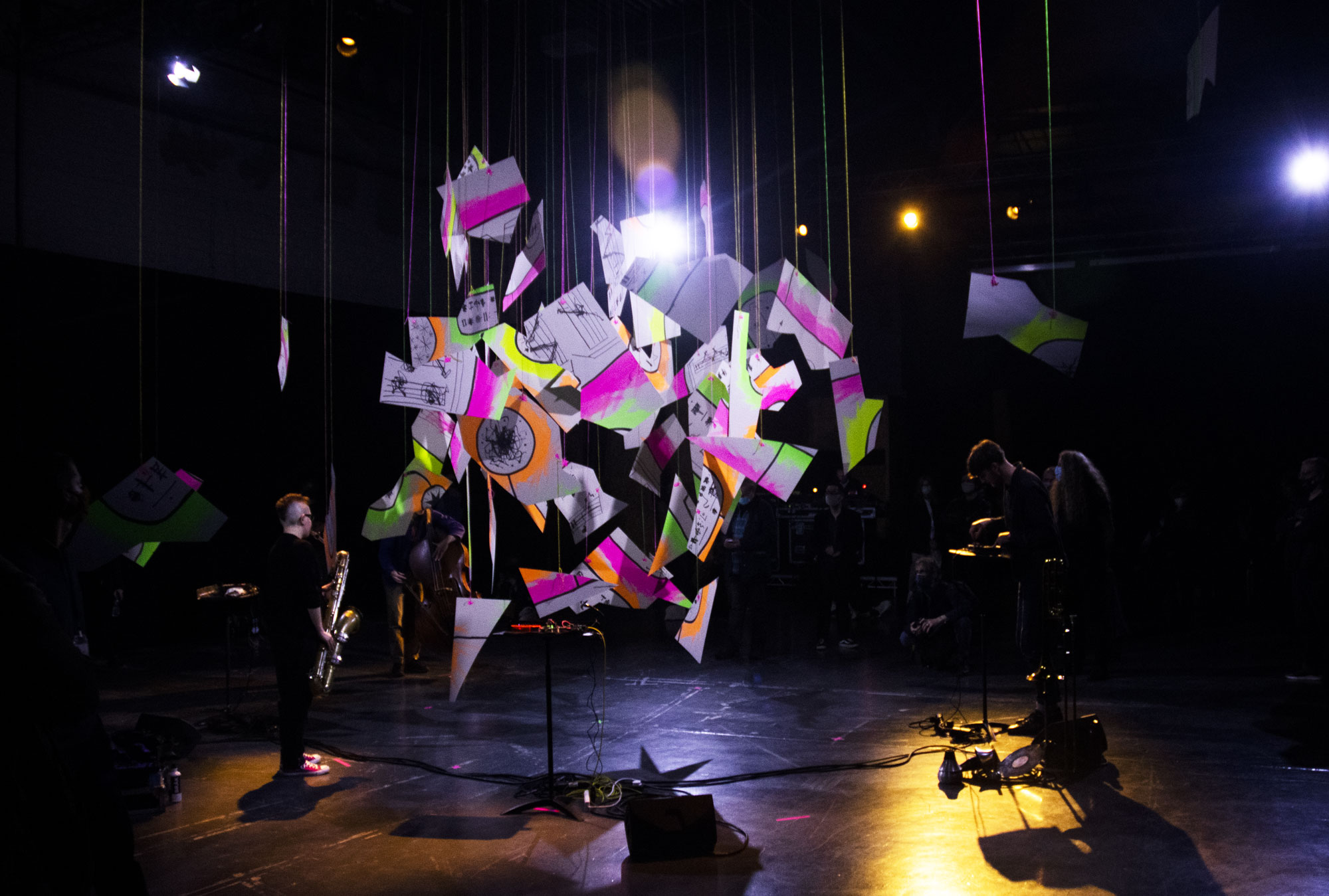 And then the next thing you know is an installation for improvising trio originally commissioned by hcmf// for their 2021 festival. I made it specifically for cr-ow-tr-io – Cath Roberts, Otto Willberg and Tullis Rennie – and it takes the form of a giant, fragmented graphic score hanging in space, with a set of cut-up audio samples of the group playing together over the internet during lockdown. We performed it in the Bates Mill Blending Shed, Huddersfield on 19th November 2021. The second performance was at City, University of London on 26th May 2022.
You can read more about the process of making the piece in this detailed blog post, and see some more images of the two performances to date.
I talk about the trio and the piece in this Wire magazine feature.
//
Article XI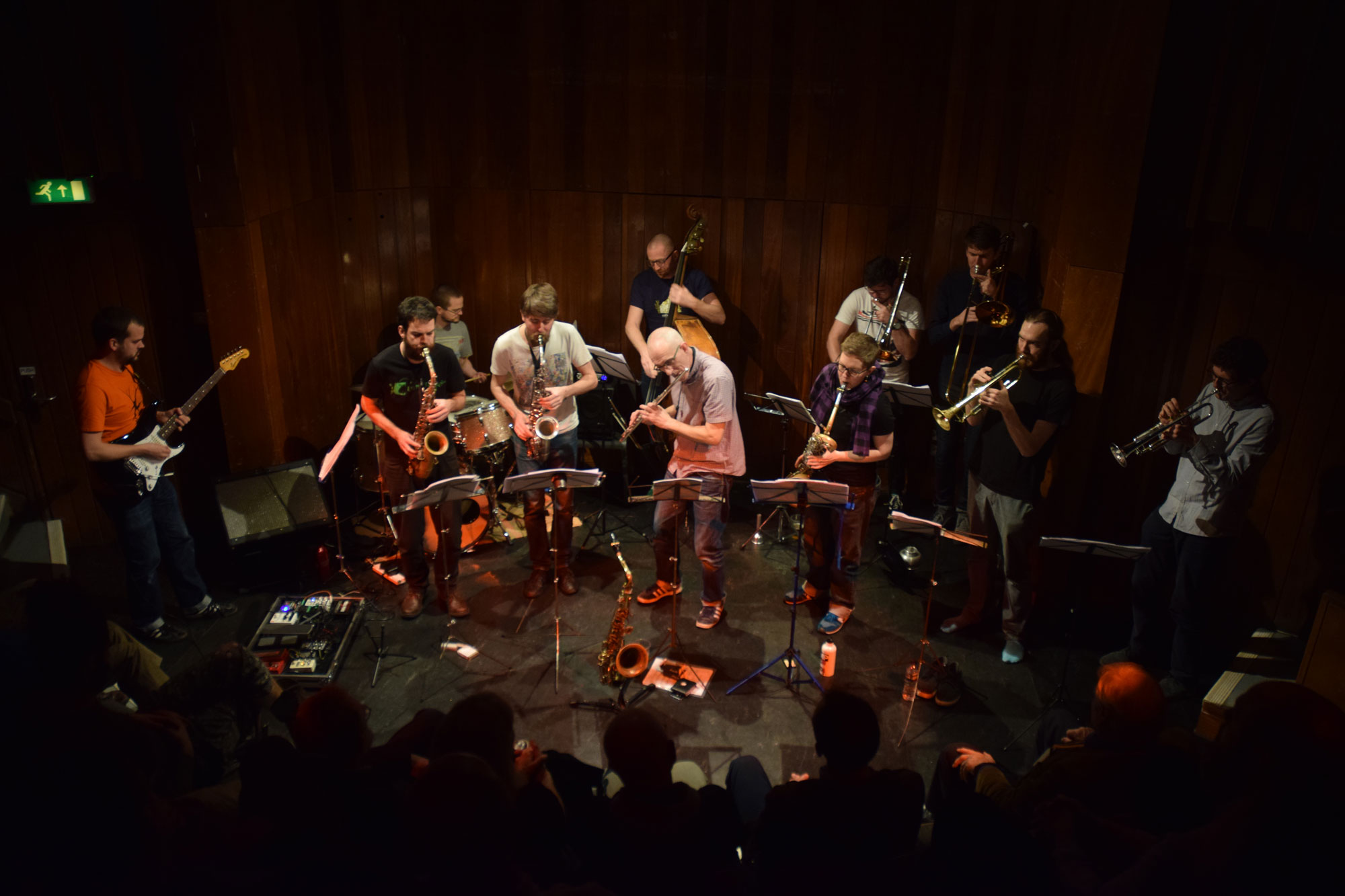 Article XI was originally formed for Anton Hunter's Manchester Jazz Festival mjf originals commission in 2014. Since then the band has performed around the UK, including on a double bill large ensembles tour with my group Favourite Animals in 2017.
Live In Newcastle was released in Spring 2020 on Discus Music:
The 2018 eponymous album is available from Efpi Records:
Graham South  trumpet
Nick Walters  trumpet
Tullis Rennie  trombone
Richard Foote  trombone
Oliver Dover  alto sax
Sam Andreae  alto sax
Simon Prince  flute, tenor sax
Cath Roberts  baritone sax
Anton Hunter  guitar
Seth Bennett  bass
Johnny Hunter  drums
For up to date Article XI news, keep an eye on Anton's website.
Photo by Tom Ward.
//
BRÅK
BRÅK is an improvised music residency in a beer shop in Brockley, South East London. Taking place at waterintobeer approximately monthly since 2017, the gigs are always made up of three duo sets. Resident improvisers Tom Ward, Colin Webster and Cath Roberts invite special guests to play duos with them for each edition. 'Bråk' is a Norwegian word that means 'noise' (and possibly also 'fight') and sort of rhymes with 'brock'(ley).
Details of upcoming gigs can be found on the BRÅK website.
Photo by Arek Golosz.
//
Collisions
A cross-genre monthly night co-run with Dan Paton under the promoter name 'In League With Robots', Collisions happened in the basement of the Albany near Great Portland Street in central London. Gigs we put on in 2013 (one poster by Cath, three by Ricky Day):
//
cr-ow-tr-io
The trio of Cath Roberts, Otto Willberg and Tullis Rennie has been meeting since 2018 to explore playing improvised music with interventions/disruptions. These can be composed elements, objects, texts, rules, actions or anything else. Often they are housed on a small table in the middle of the room.

In the public performances by this group so far, there have been attempts at making music together whilst being distracted by small tasks, repetitive and/or banal instructions and games of hide and seek. Vocal utterances have been heard, including gurgling. Some teeth were nearly lost through sound-making, mostly by mistake. There were bits that felt uncomfortable – but in a good, challenging way – and there were lots of moments of collective fun.
cr-ow-tr-io performed Cath's piece And then the next thing you know, created for the group, at hcmf// 2021. Before that they appeared at Poplar Union, SET Dalston and Hundred Years Gallery, and a day's studio recording at City University in Summer 2019 led to the album Hold Music (Luminous, 2021).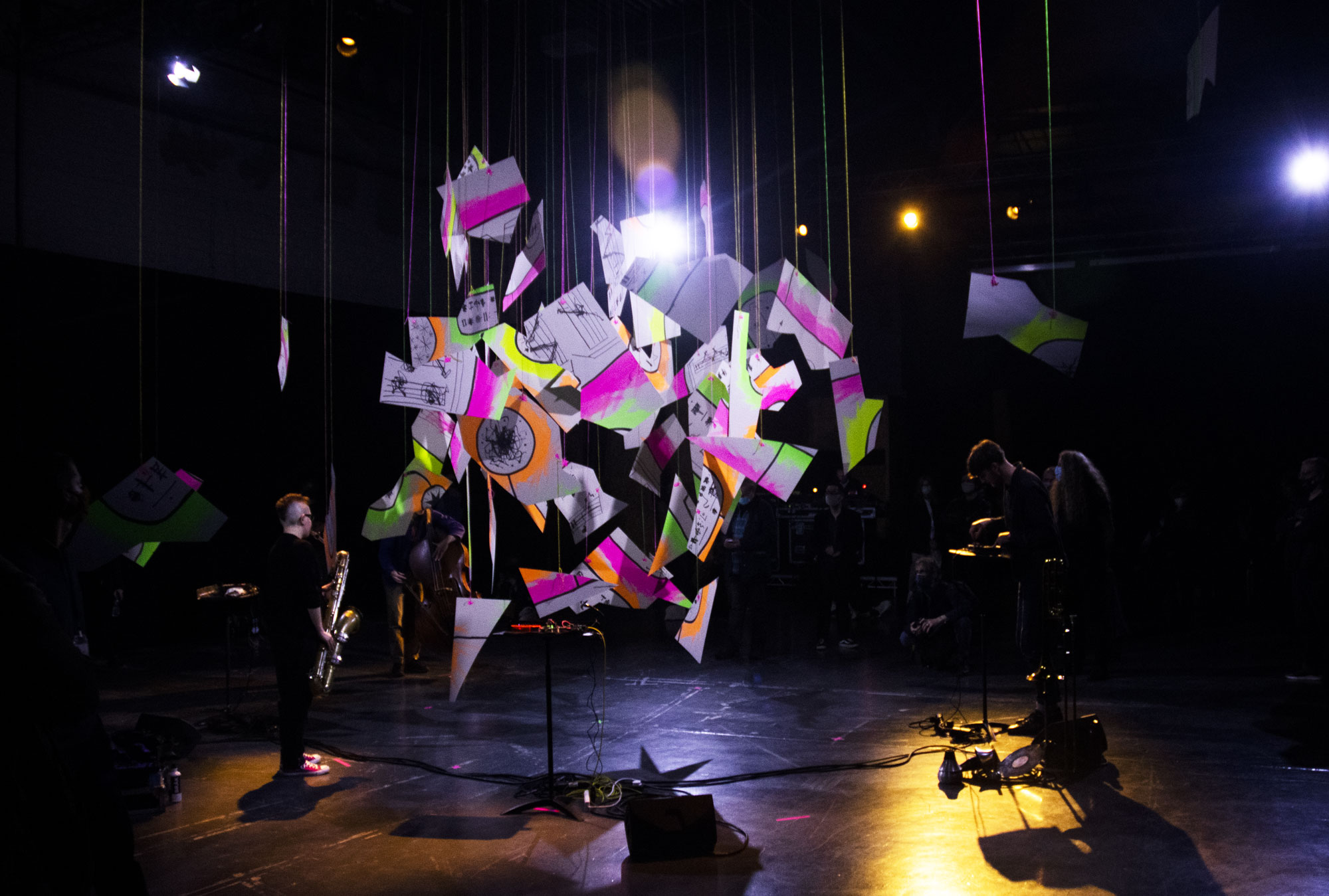 Playing And then the next thing you know at hcmf//, November 2021.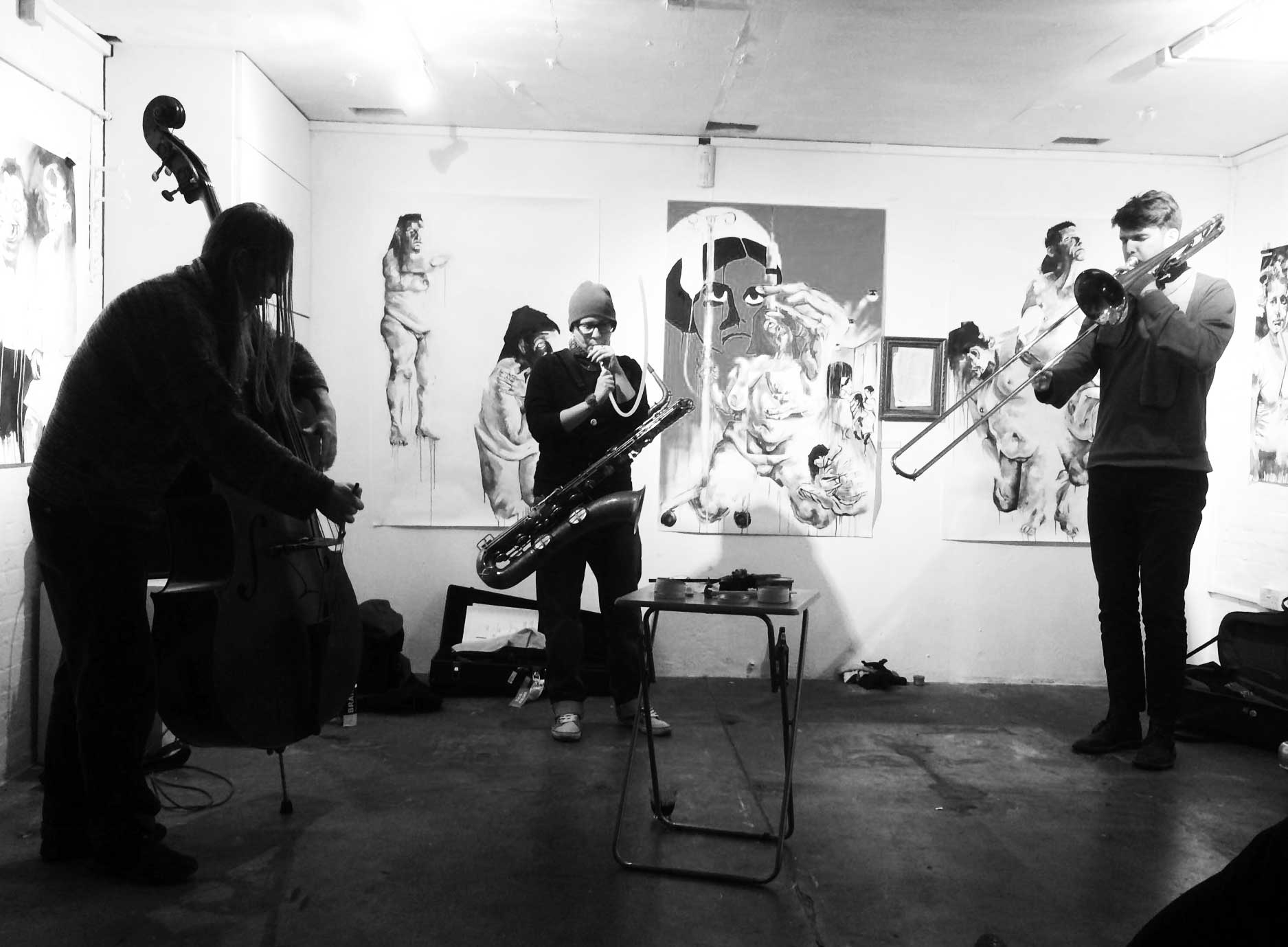 At Hundred Years Gallery, 2019. Photos by Tom Ward.
//
Dee Byrne & Cath Roberts
After working together in many different settings since 2013, Dee Byrne and Cath Roberts released their first duo album on Luminous in 2020. Mixed by Alex Bonney, Disembark! is a series of short acoustic improvisations recorded at Gun Factory Studios, London in April 2019.

The release tour in summer 2020 was postponed due to the pandemic, but most of the dates were resurrected in 2023 for a minitour to celebrate the launch of Disembark! as a cassette…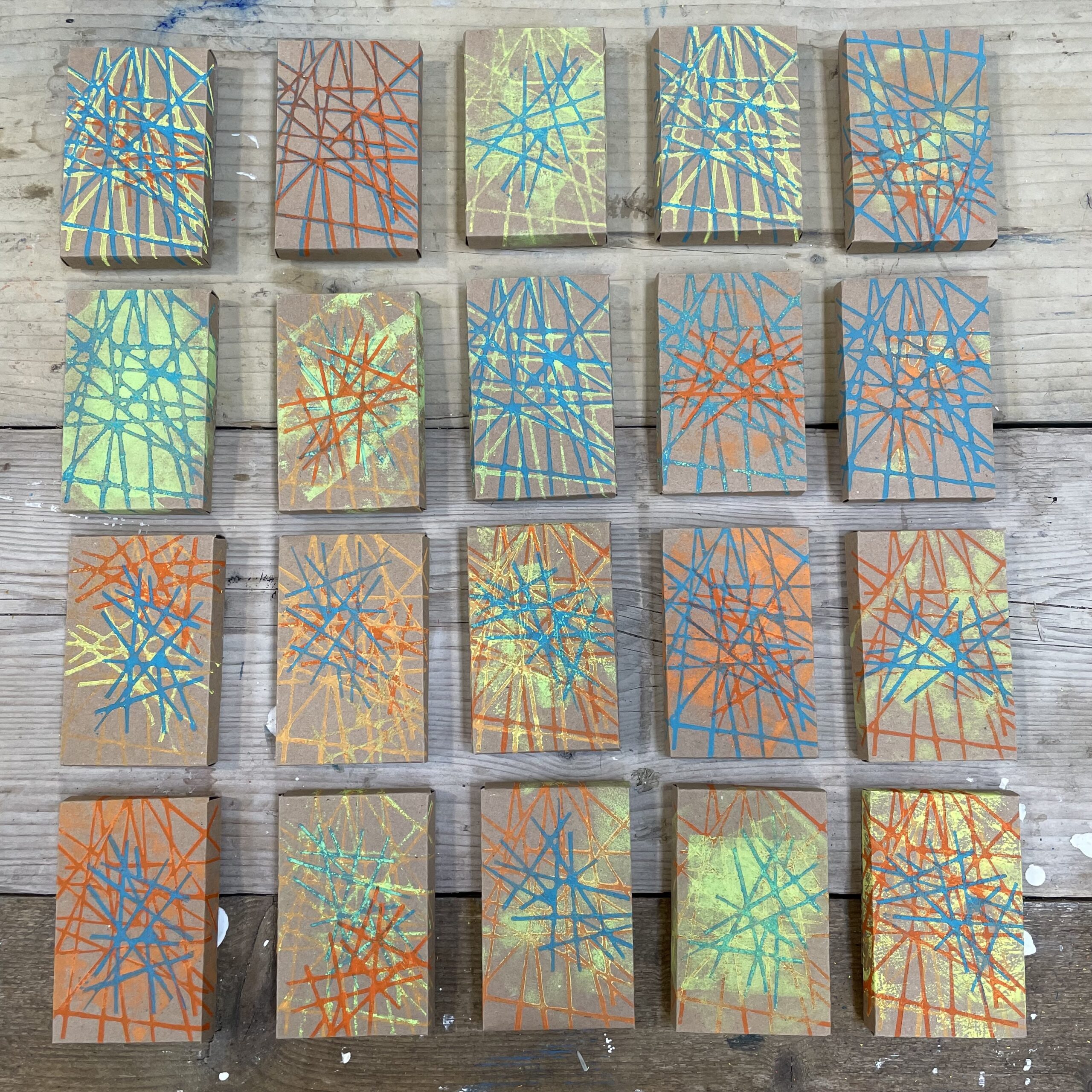 (back to top)
//
Favourite Animals
Dee Byrne (alto sax), Sam Andreae (tenor sax), Tom Ward (flute/bass clarinet), Julie Kjær (flute/bass clarinet), Graham South (trumpet), Tullis Rennie (trombone), Cath Roberts (baritone sax), Anton Hunter (guitar), Seth Bennett (bass), Johnny Hunter (drums).
Favourite Animals was an expanded Sloth Racket lineup assembled for an Artist in Residence commission at Lancaster Jazz Festival 2016. The ensemble toured in a double bill with Anton Hunter's Article XI in December 2017 and released an album, supported by 90 brilliant crowdfunder backers, on Luminous:

'Lurching between riff and abstraction…maintains an elegant balance between emergent melody and the wilder activity at its fringes'  (The Wire)
'Startling moments of altered perspective'  (Bandcamp Daily)
'Gritty and anarchic…Favourite Animals confirms Roberts' talent as a composer and Luminous as a label to watch'  (Jazzwise)
(back to top)
//
Graham Dunning and Cath Roberts
Put together by Phil Durrant for his Overtones & Undertones series at IKLECTIK in January 2023, the duo of Graham Dunning and Cath Roberts explores a combination of prepared turntable, self-built instruments, synthesiser and sampler, through live improsived sets. Alongside ppearing at experimental music nights around London, they are working on a studio recording.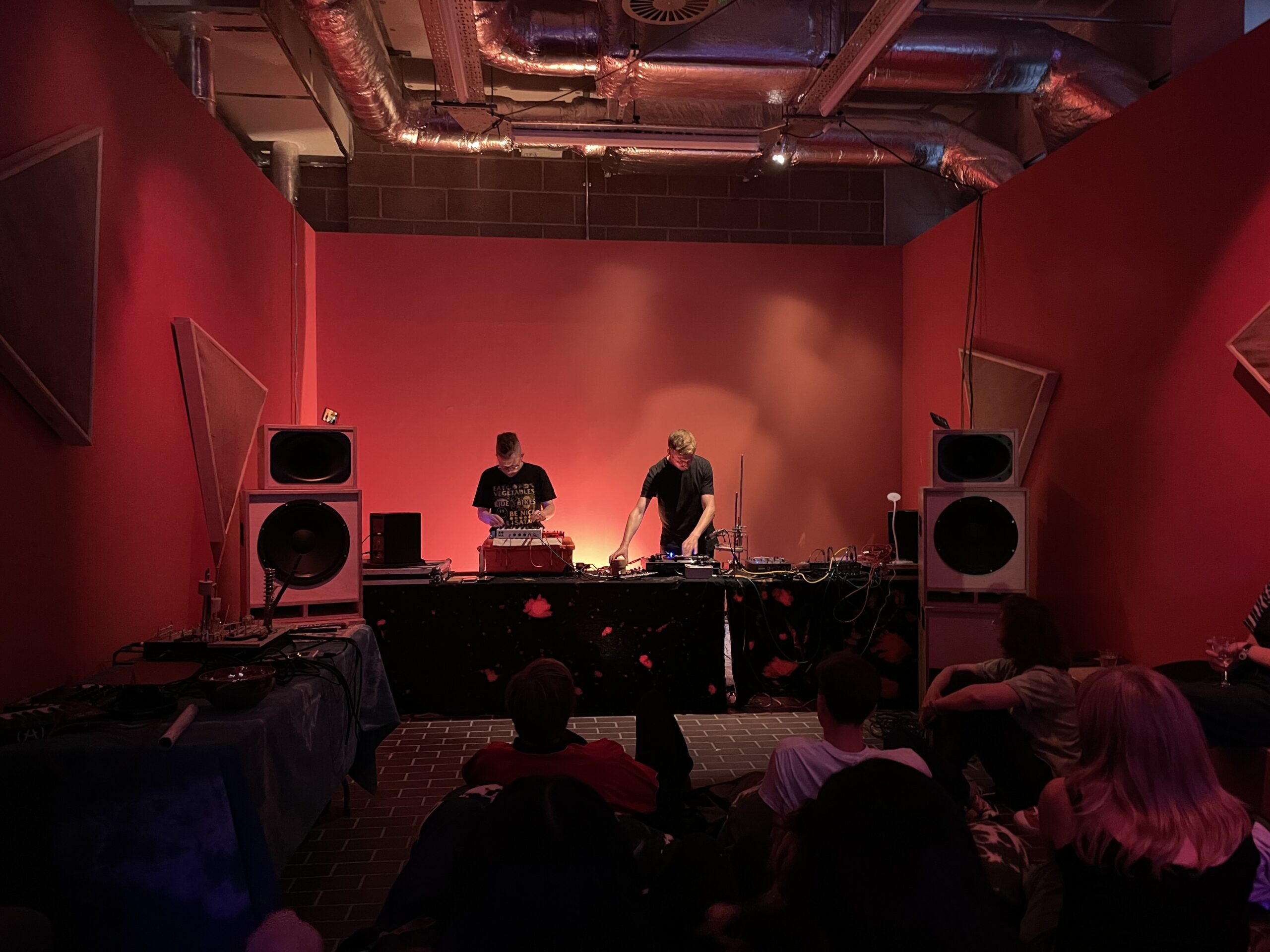 At TACO! in July 2023 (Tom Ward)
//
Live electronics
I've been getting into improvising using live electronics. As of early 2023 this has included solo, plus duos with Sam Andreae, Bill Thompson, Graham Dunning (see above) and Tom Ward (as Creatures of Tooth). I also use live electronics as part of And then the next thing you know.
A solo piece, 'be unafraid to open things up', was released last year on Graham's Fractal Meat label.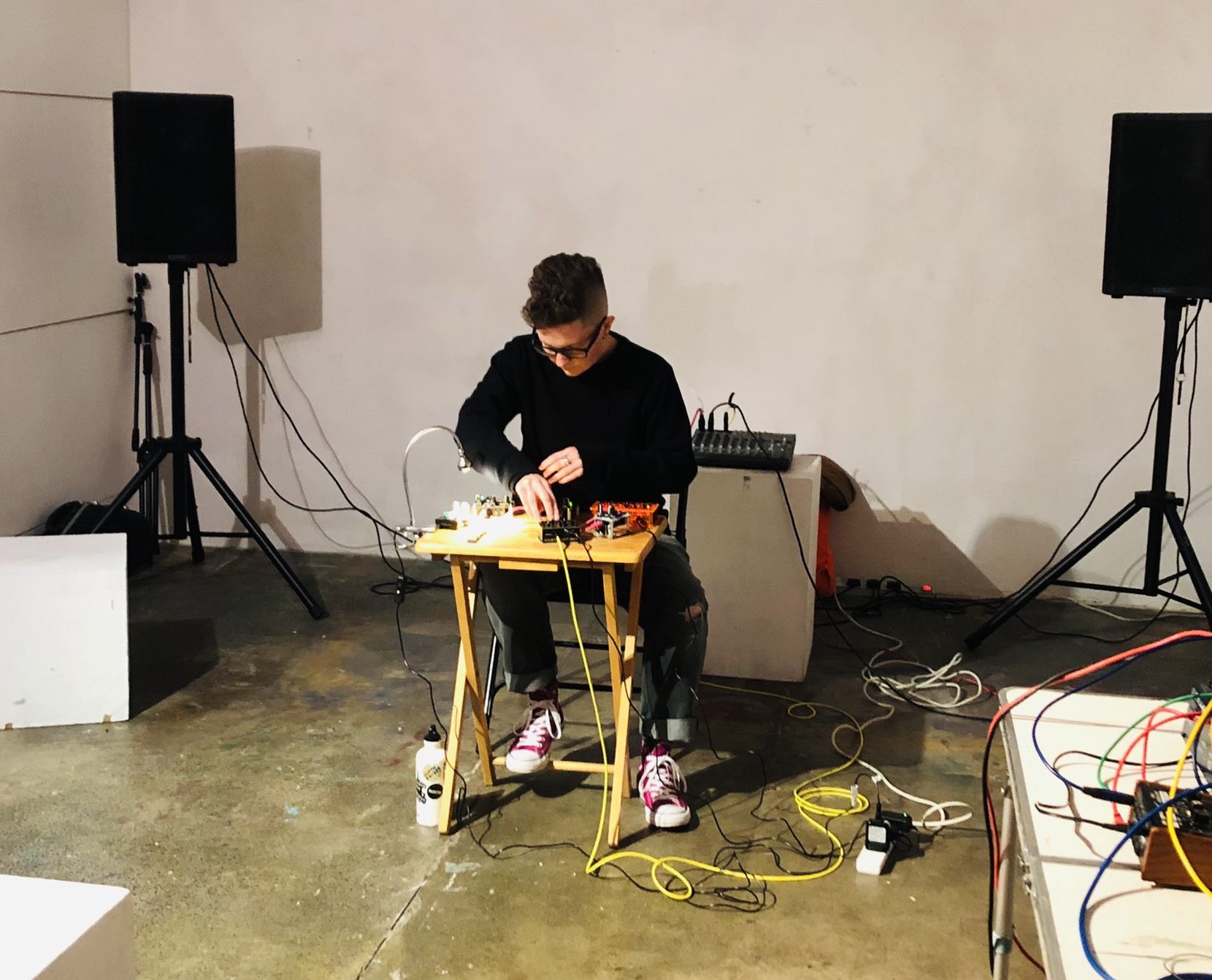 //
Live recordings Bandcamp site
An online project for 2020, while live performances were suspended due to the pandemic. Excavated from my archive of gig recordings and published on a new Bandcamp site, these are often quite raw documents of music that happened live in the moment, including sets with Rachel Musson, Benedict Taylor, Seth Bennett and more. Explore the site starting with this trio set from a LUME gig in 2016 with Corey Mwamba and Olie Brice…
//
LUME/Luminous
Since 2013 Dee Byrne and Cath Roberts have worked on projects under the name LUME. Always with a focus on the creation of new original/improvised music, LUME activities have included concert series, residencies, festivals and tours. lumemusic.co.uk
LUME's recorded music offshoot is the DIY label Luminous. The label is a home for the musical output of its founders, with long-running projects Sloth Racket and Deemer sitting alongside improvised collaborations and experimental offerings. luminouslabel.co.uk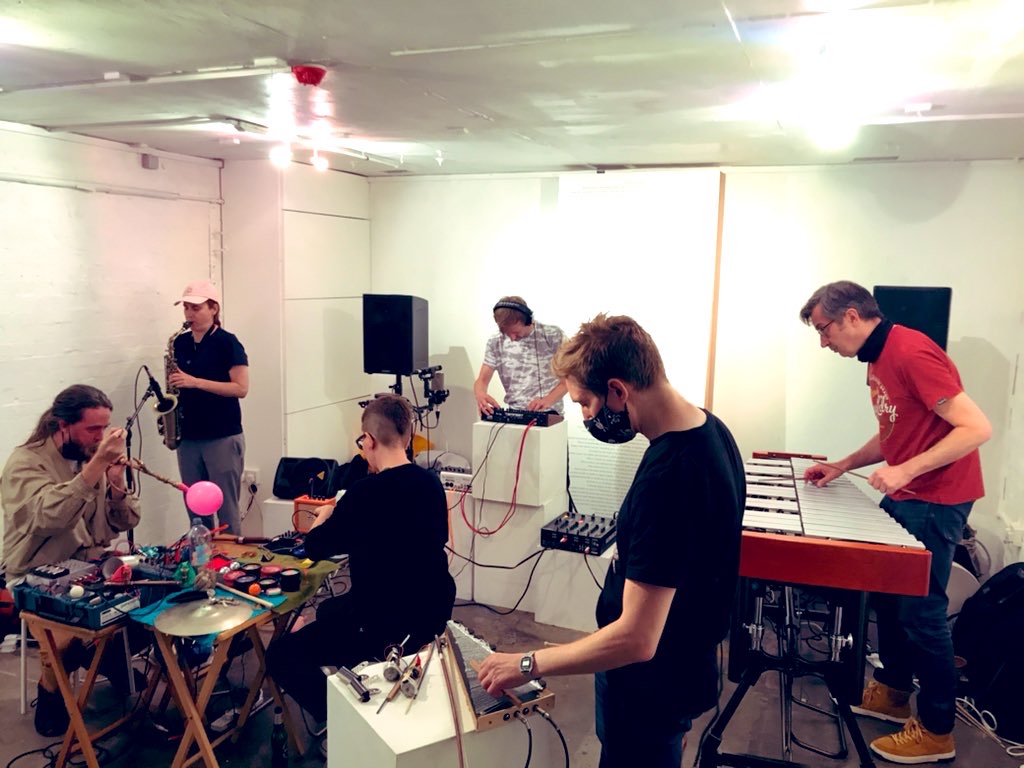 Three band mashup set at LUME in July 2021 (Hundred Years Gallery, Hoxton).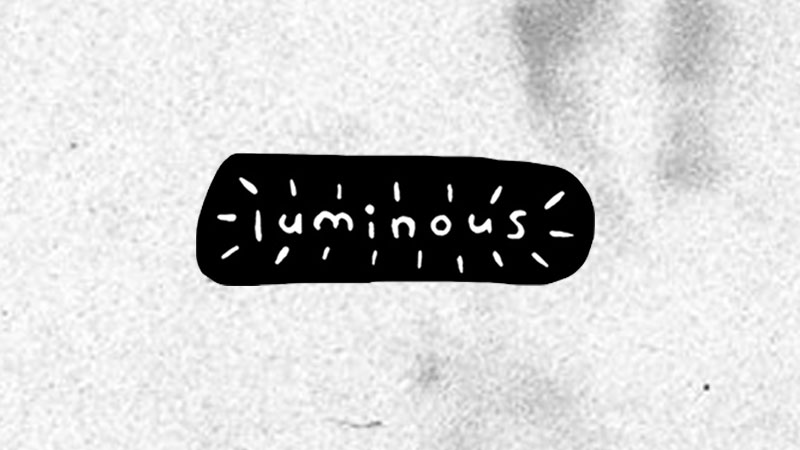 Luminous label logo.
//
Madwort Saxophone Quartet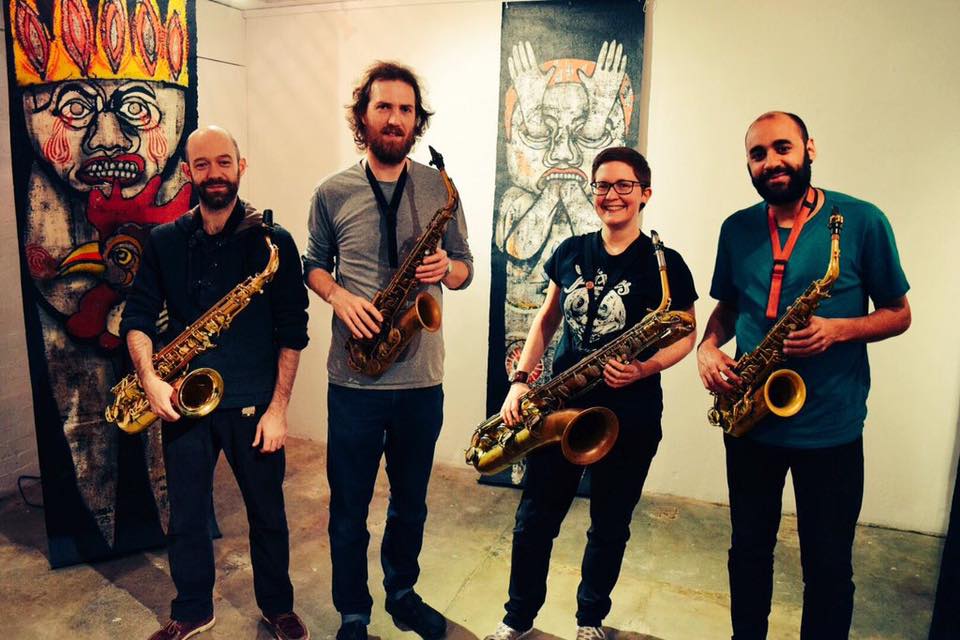 Madwort Sax Quartet brings together four diverse improvising saxophonists from across the UK scene. Led by Tom Ward and playing his original compositions, the project's influences include numerology, the movement of the planet earth through space, pioneering saxophone quartet ROVA, Tim Berne, and transcriptions of bird song. The quartet recorded their debut album live in Spring 2016 at a packed Hundred Years Gallery in London, documenting Tom's music and capturing the infectious energy of a live gig. It was released in 2017 on Efpi Records:

Tom Ward: alto saxophone & composition
Chris Williams: soprano & alto saxophones
Andrew Woolf: tenor saxophone
Cath Roberts: baritone saxophone
For up to date news on the sax quartet head to Tom's website.
Photo: Alex Bonney.
//
MoonMot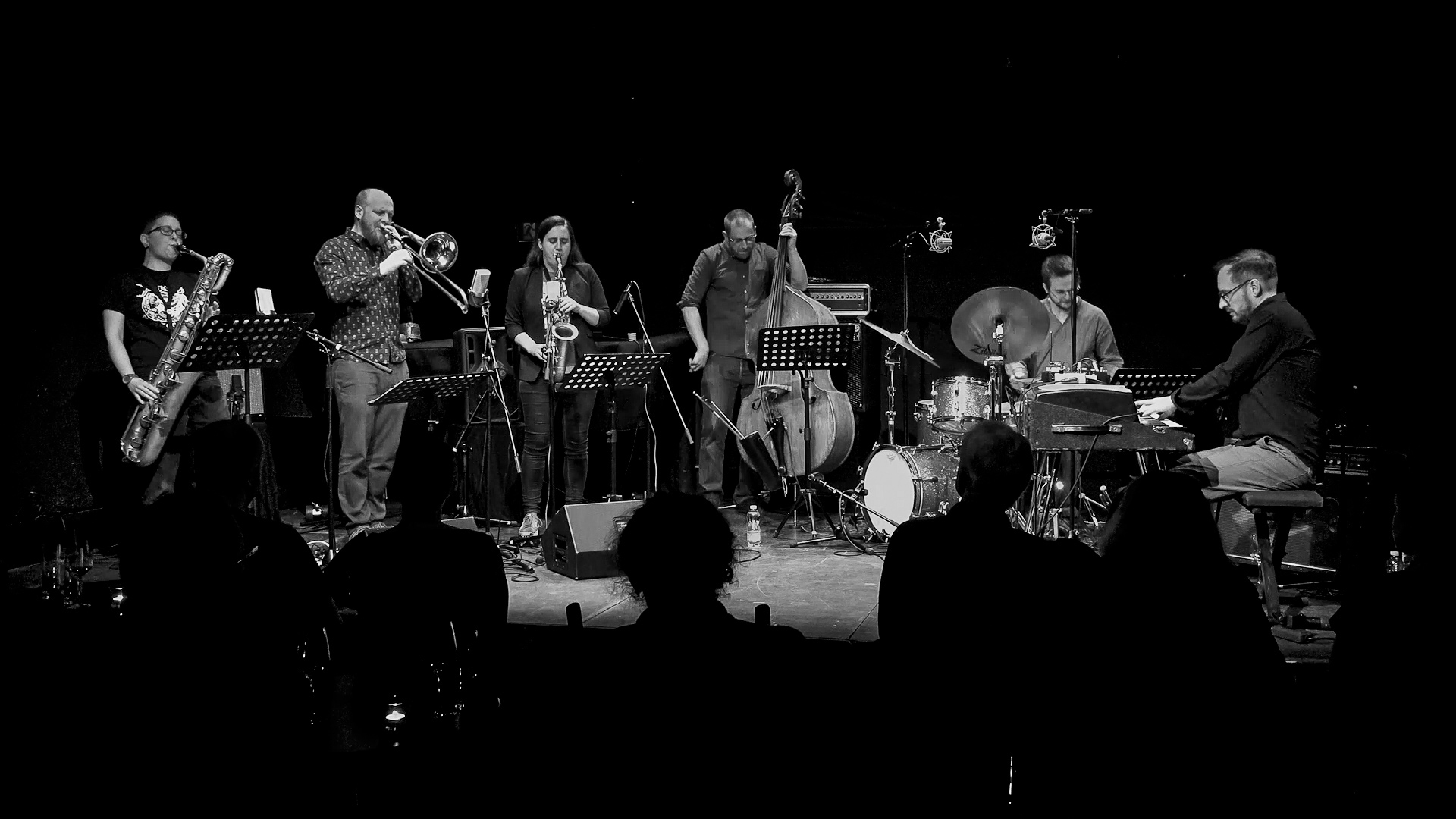 MoonMot is a UK/Swiss sextet formed in 2017. The musicians first played together in Switzerland when LUME visited Jazzwerkstatt Bern, and the sextet played its first gig supporting The Thing at London Jazz Festival 2017. In 2019 the group toured Switzerland and recorded its debut album, which was released on Unit Records in February 2020 accompanied by a European tour.

The band went into the studio in Switzerland in September 2021 to record a second album, out soon.
Dee Byrne  alto saxophone, electronics
Simon Petermann  trombone, electronics
Cath Roberts  baritone saxophone
Oli Kuster  Fender Rhodes, electronics
Seth Bennett  double bass
Johnny Hunter  drums
Upcoming live dates and more information can be found on the MoonMot website. I am leaving the group at the end of 2023 but am excited to follow their future plans…
//
Olie Brice & Cath Roberts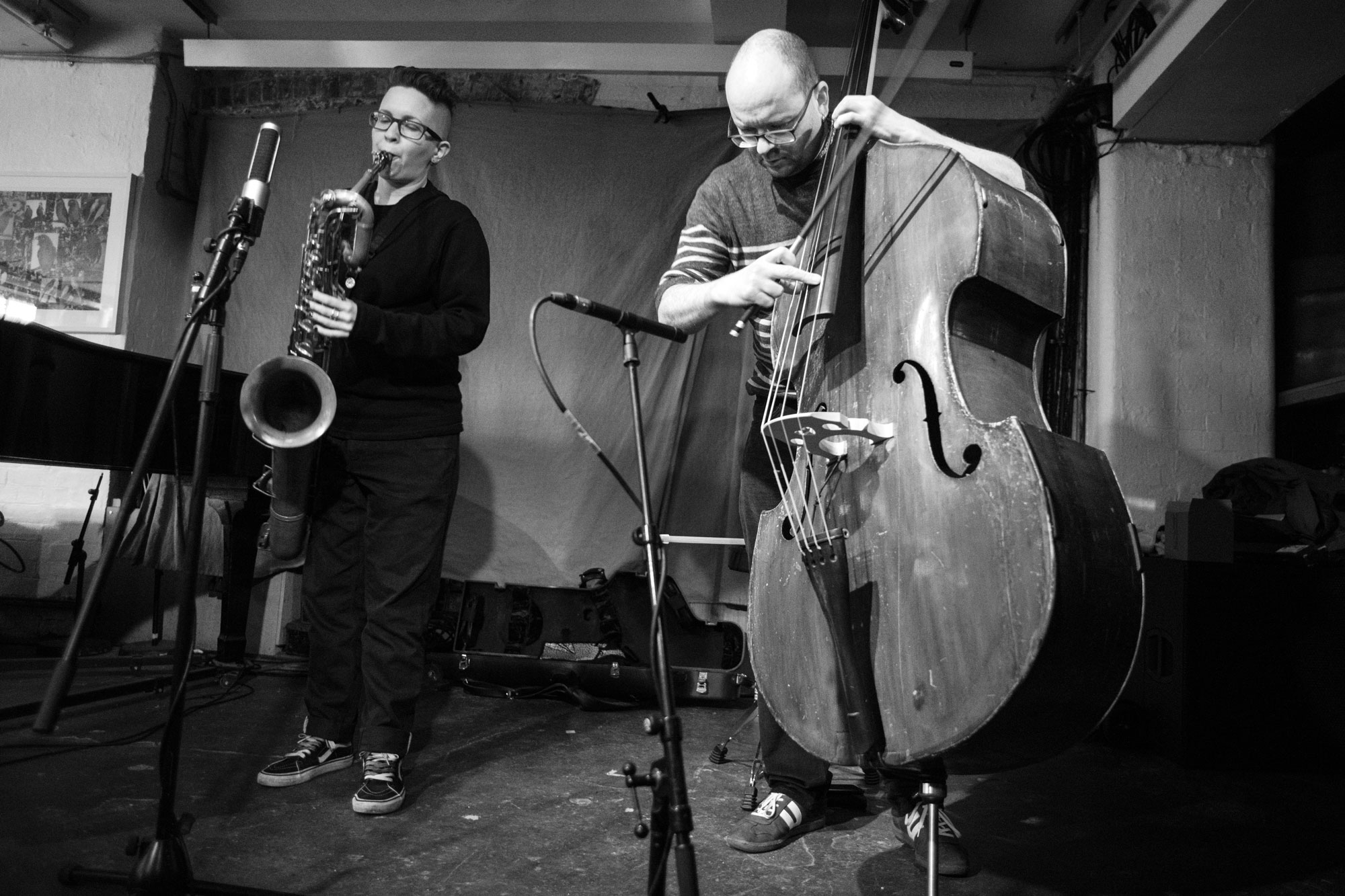 At Cafe Oto, January 2022. Photo by Dawid Laskowski.
This duo with Olie Brice came together over the internet during lockdown in early 2021. Using JackTrip, we played together remotely in real time and ended up making an album of those sessions, Conduits, released in March 2022 on Relative Pitch Records. Once it was possible to do so again, we played live around the UK including at Cafe Oto, London.
//
Quadraceratops
Quadraceratops played regularly from 2011 to 2015, releasing an album on Efpi Records in 2014. The lineup changed over time, but across the whole period the members were:
Cath Roberts – alto saxophone, compositions
Tom Ward – tenor saxophone
Nick Walters/Henry Spencer – trumpet
Magnus Dearness – trombone
Dave O'Brien/Kit Massey – keyboards
Jason Simpson/Dave O'Brien – bass
Olly Blackman/Luke Christie – drums

'Seven tightly argued compositions. […] The writing for the four horns…is a cut above, with intricate interplay and voicings that echo the late Kenny Wheeler's subtle complexities.' *** – Mike Hobart, Financial Times
'Names such as Kenny Wheeler and Mike Gibbs com[e] to mind…a very promising addition to the new scene.' *** – Jazzwise
'Quadraceratops can rattle the rafters with the best of them.' **** – Bruce Lindsay, All About Jazz
'On the evidence of [the] seven Roberts originals here, she's a blossoming presence among the UK's big-ensemble jazz composers, capable of a similar early-career impact to that of Django Bates in the 1980s. […] She's one to watch.' *** – John Fordham, The Guardian
'Cath Roberts is an emerging talent and Quadraceratops represents an outstanding début. This is a musician and a band that we will doubtless be hearing a lot more of.' **** – The Jazz Mann
'A very impressive debut…a great album.' – Sandy Brown Jazz
'Listening to Quadraceratops makes me think of Loose Tubes somehow…there's an individuality in the writing for the closely arranged horns that recalls the freshness of Django Bates and co.' *** – Marlbank
'Cath Roberts has woven an intriguingly personal mix of musical styles into a very fine debut album that leaves me wanting to hear her again.' – Jazz Views
Images: Live in Manchester as part of 'LUME On Tour' in Summer 2015 by Dee Byrne, recording our debut album in Spring 2014 by Alex Bonney.
//
Ripsaw Catfish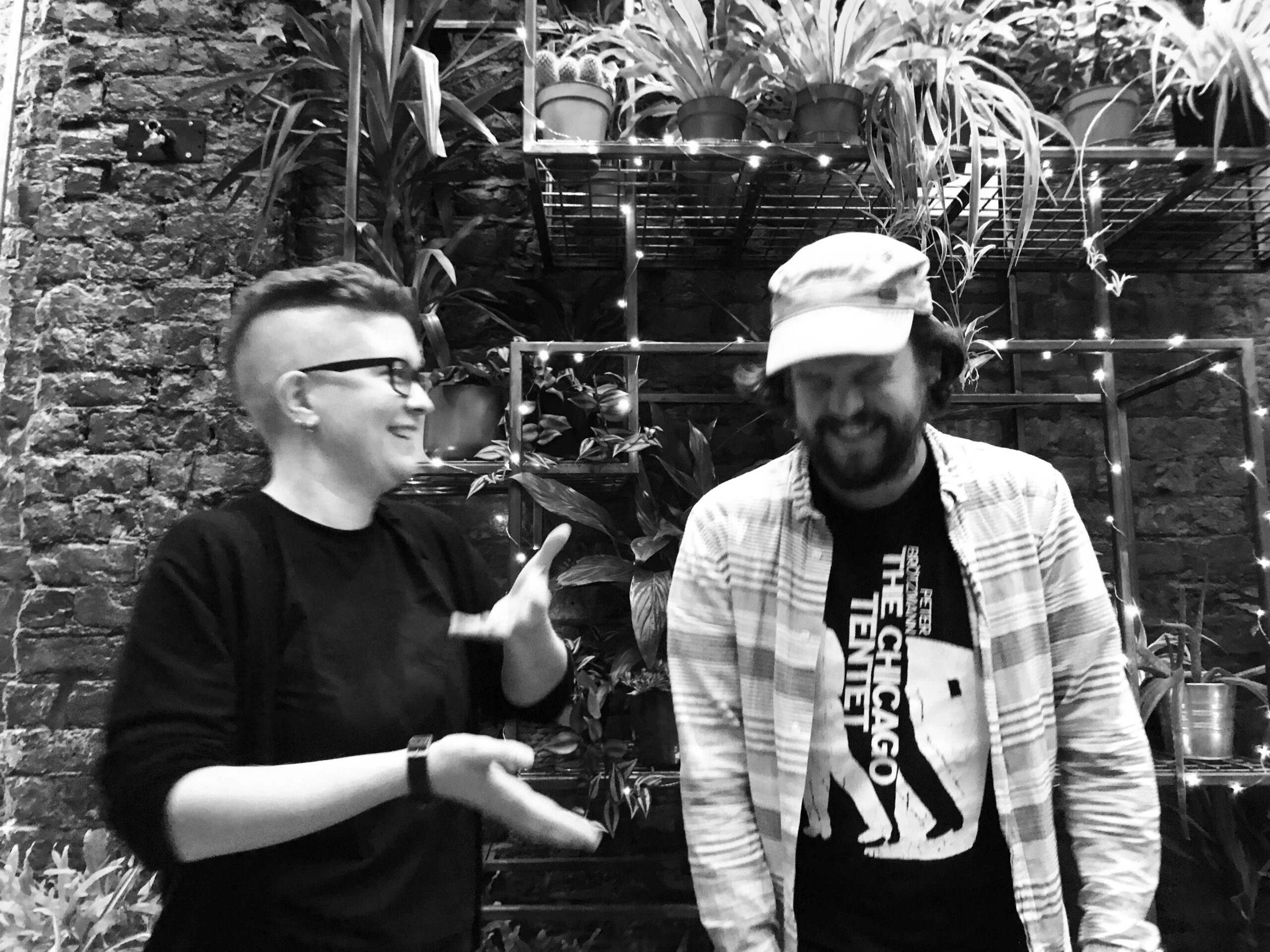 Ripsaw Catfish is the collaborative duo of Cath Roberts (electronics, baritone saxophone) and Anton Hunter (guitar). The Manchester and London-based musicians started playing in 2013, going on to release the albums 'For The Benefit Of The Tape' (2014) and 'Namazu' (2017) on Raw Tonk Records. They have since toured widely in the UK, France, Holland and Belgium. A third album 'Carapace' was released in June 2022, also on Raw Tonk.
'Intense, gnarly and experimental' – The Guardian
Carapace (Raw Tonk Records, 2022):
Namazu (Raw Tonk Records, 2017):
For The Benefit Of The Tape (Raw Tonk Records, 2014):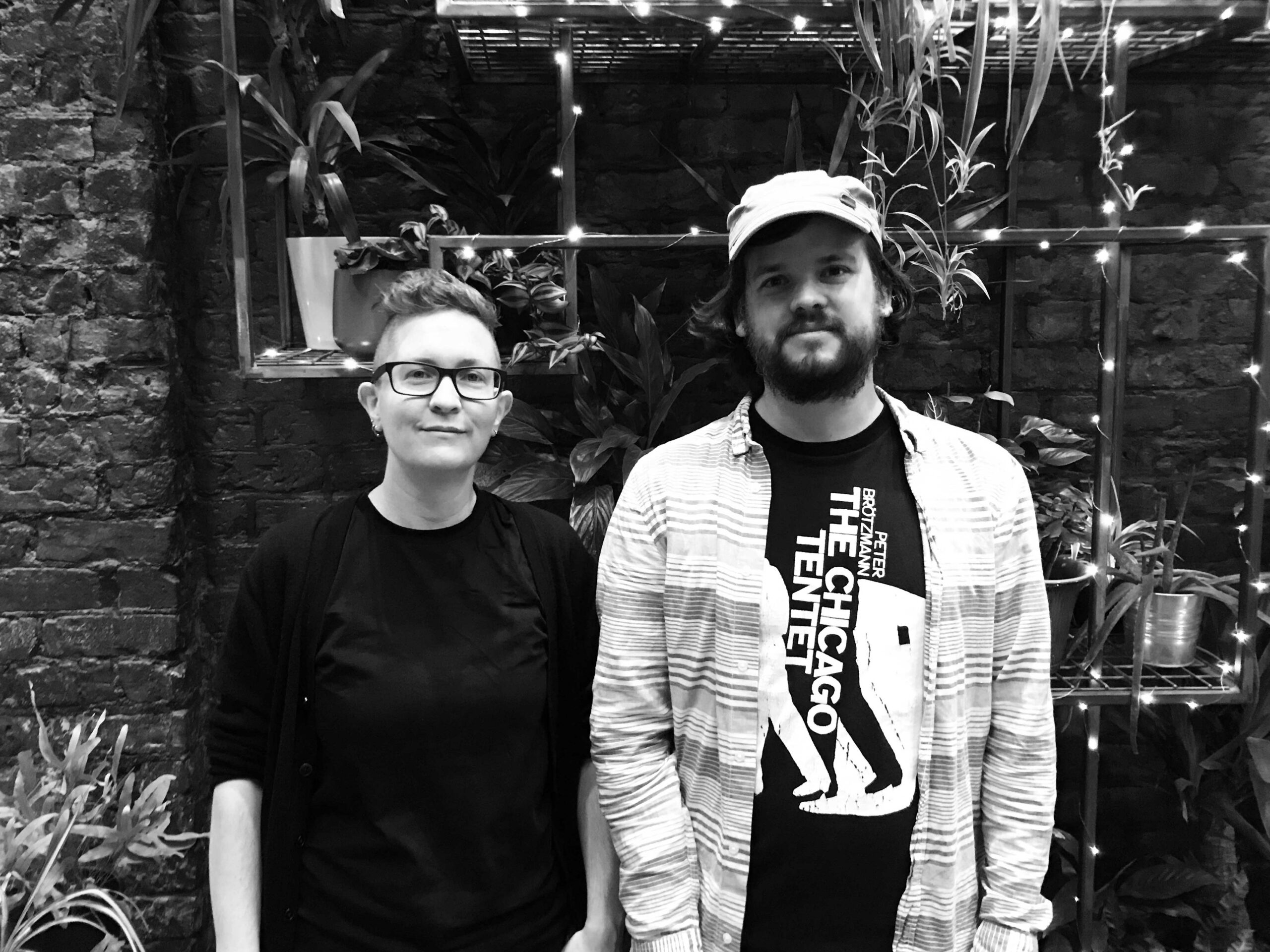 Photos by Tom Ward, 2022.
//
Sam Andreae & Cath Roberts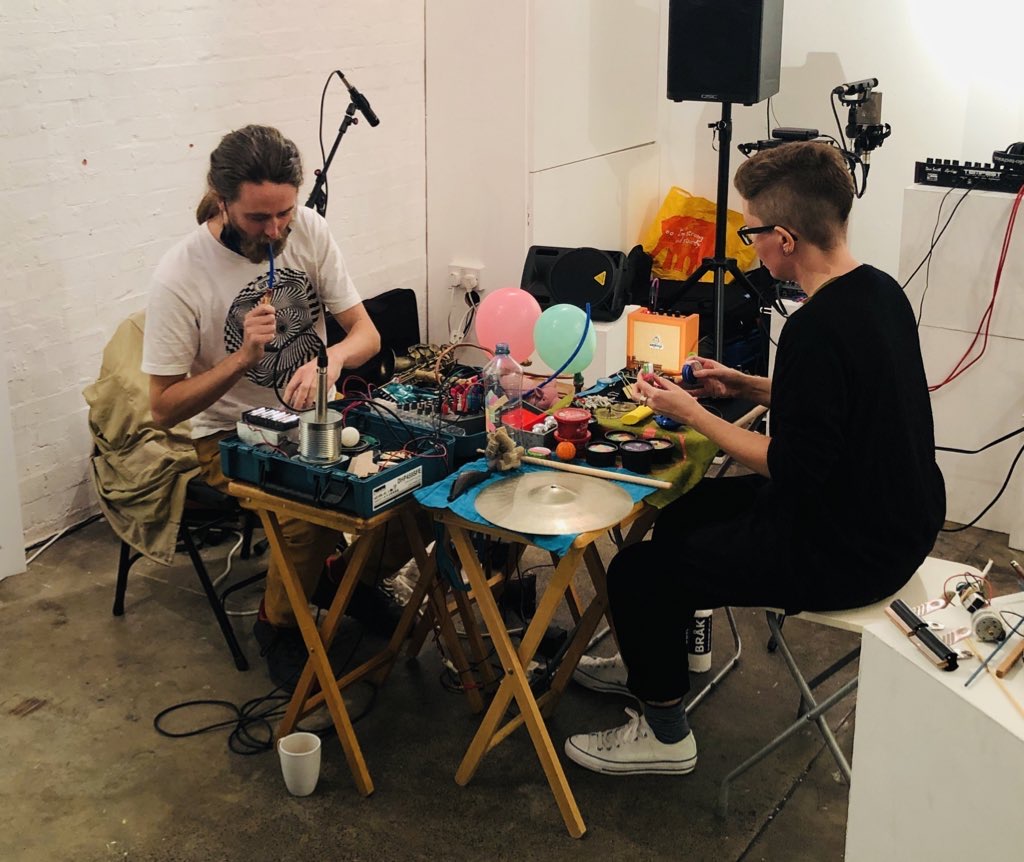 Usually found playing saxophones together, Cath Roberts and Sam Andreae started experimenting with lots of tabletop noise-making at their shared studio space in Lewisham in 2020. Since then they have started playing together live in this format, and their tape 'Miaow Argument' (December 2021) is available on the Sound Holes label.
//
Saxoctopus
A cautionary lesson on the dangers of social media, this eight-saxophone behemoth underwent the transformation from Twitter joke to actual band in 2014 when Corey Mwamba offered them a gig in Derby. The group also appered twice at the Vortex in London. It played original compositions by its members, as well as being a vehicle for exploring graphic scores and guided group improvisation. The lineup:
Julie Kjaer alto
Oliver Dover/Mette Rasmussen  alto
Dee Byrne  alto
Rachel Musson  tenor
Tom Ward  tenor
Sam Andreae  tenor
Cath Roberts  baritone
Colin Webster  baritone
The 2015 album on Raw Tonk Records:

//
Sloth Racket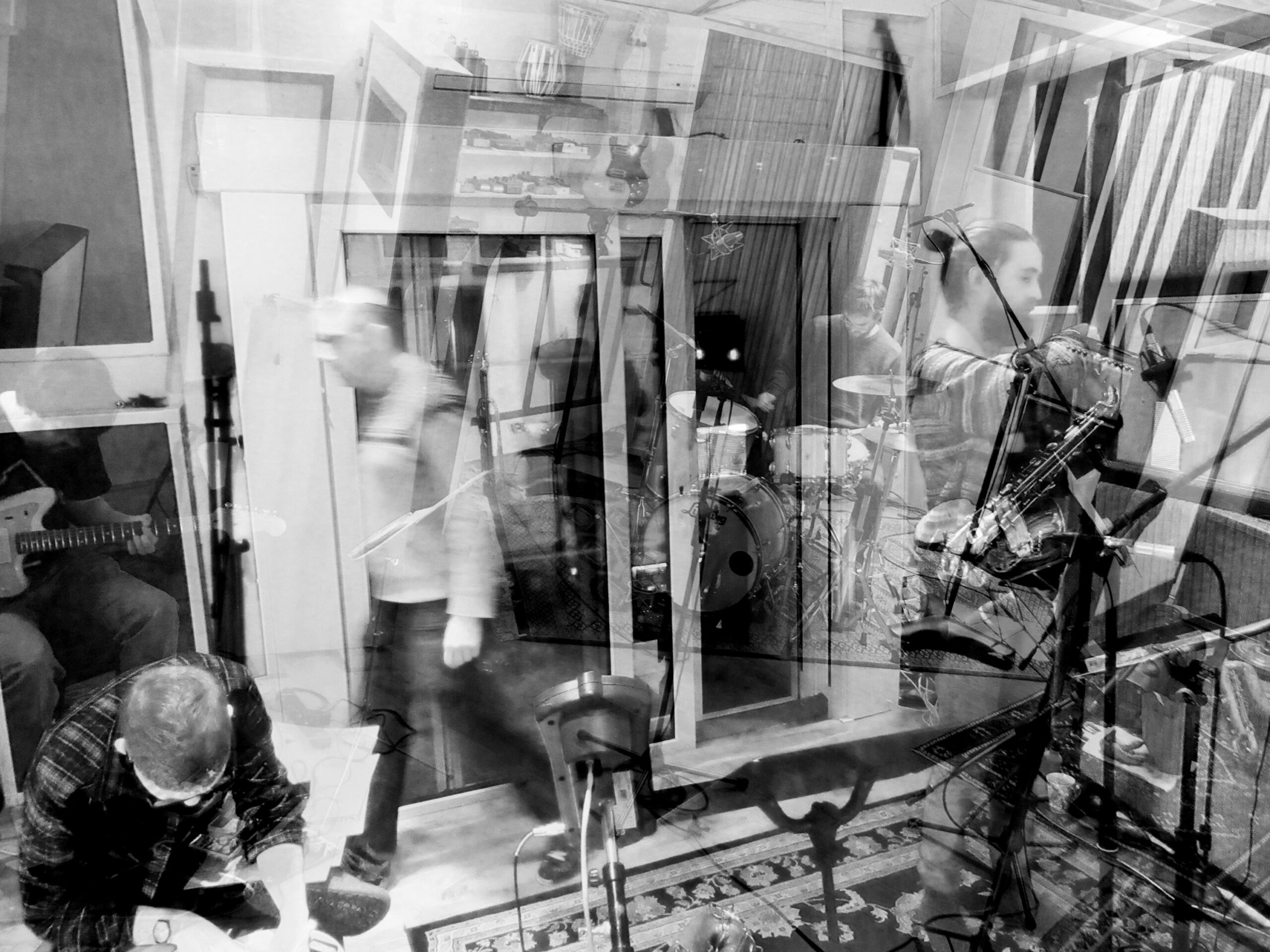 Sloth Racket is the main outlet for my playing and composition. I put the band together in 2015 for a Jazz North East gig at Gateshead Jazz Festival, and since then we've toured the UK annually as well as appearing at multiple other festivals around the country. Sloth Racket has released five studio albums and two live abums. A recording of the live broadcast from our 2020/21 lockdown project A Room Inside The Internet can now be heard on the Wire magazine website.
'Watching Sloth Racket perform is a thrilling experience, conveying a palpable sense that the musicians are navigating the scores by the seat of their pants, making real-time group decisions that sculpt the compositions into unique shapes each time they're played.'
– Daniel Spicer, The Wire, December 2021
Sam Andreae / alto saxophone
Cath Roberts / baritone saxophone and compositions
Anton Hunter / guitar
Seth Bennett / double bass
Johnny Hunter / drums
The band has its own site with videos, audio, more info and images: slothracket.co.uk
Short biog
Sloth Racket is a band of improvisers from London, Manchester and Dundee. Baritone saxophone player Cath Roberts creates scores that form the skeleton of the music, and the band constructs a collective sound out of those pages in the moment. Since forming in 2015 they have toured regularly, appeared at numerous UK festivals, and released their fifth album on the Luminous label in 2022.
//
Spinningwork

Formed in lockdown through a series of remote JackTrip rehearsals online, Spinningwork is a collaborative project of four established bandleaders and composers. Playing compositions by all the members and with collective free improvisation at its heart, the band features Tom Ward (alto saxophone), Cath Roberts (baritone saxophone), Olie Brice (double bass) and Johnny Hunter (drums). The album is available from the Newcastle-based New Jazz And Improvised Music Recordings label.
//
Word Of Moth
A LUME quartet project comprising Dee Byrne (alto sax), Cath Roberts (baritone sax), Seth Bennett (bass), and Tom Greenhalgh/Johnny Hunter (drums). The group's 'spontaneous group explorations and tightly-scored, big-booted riffs' were praised by Daniel Spicer in the Wire magazine after their appearance at LUME Festival in Summer 2016. They also performed at Lancaster Jazz Festival in 2015 and Jazzwerkstatt Bern festival, Switzerland, in 2017.
Photo: Tom Ward.